Infinitive
Can
Catch
Come
Find
Lose
Make
Read
Sell
Win
Write
Past Simple
Could
Caught
Came
Found
Lost
Made
Read   (red)
Sold
Won
Wrote

Past Participle
_______
Caught
Came
Found
Lost
Made
Read  (red)
Sold
Won
Written
Could and Couldn't

We use could and couldn't to express past ability or lack of past possibility. They are the past of can in affirmative and negative. The verb after could and couldn't is in infinitive.

I could run very fast when I was young.

I couldn't talk when I was one years old.

Online activities

http://www.tolearnenglish.com/exercises/exercise-english-2/exercise-english-91443.php

https://learnenglishkids.britishcouncil.org/en/grammar-games/modals-could-and-couldnt

http://www.english-grammar-lessons.com/could/exercise3.swf

 Most of the rest of the focus on this unit is the past simple. (see units 3 and 4)

Possessive and Adjectival Pronouns
Subject
I
You
He
She
It
We
They
Object
Me
You
Him
Her
It
Us
Them
Possessive Adjective
My
Your
His
Her
Its
Our
Their
Possessive Pronoun
Mine
Yours
His
Hers
Its
Ours
Theirs
Writing and Speaking

Students doing the Cambridge Movers exam will focus on part three of the speaking.
Please see Unit 5 of 3º English.
Students doing the Cambridge Flyers Exam will focus on part two of the speaking exam.
See below

Students must begin to focus on constructing questions in the present simple, present continuous or past simple for this part of the exam.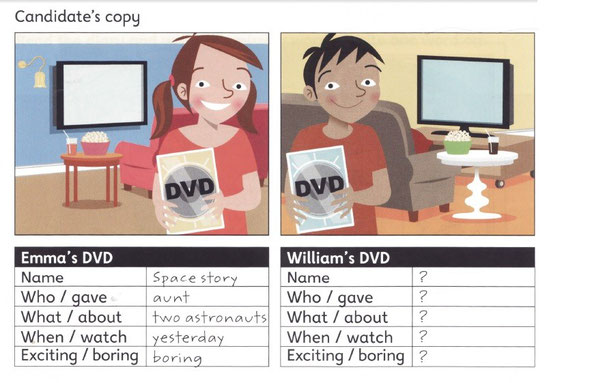 Questions for Emma's DVD above would be like this:
What is the name of Emma's DVD?
Who gave her the DVD?
What is it about?
When did she watch it?
Was it it exciting or boring?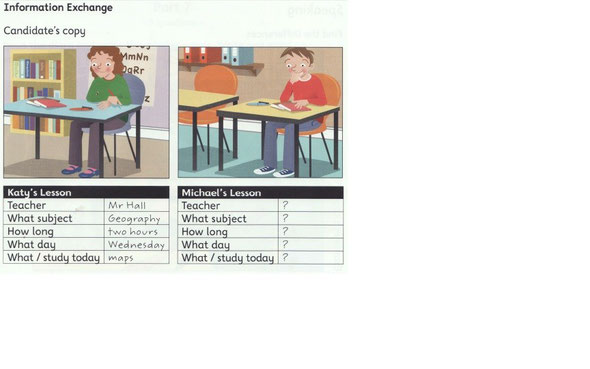 Questions for Katy's lesson above would be like this:


Who is Katy's teacher?
What subject is she studying?
How long is the lesson?
What day is the lesson?
What is she studying today?